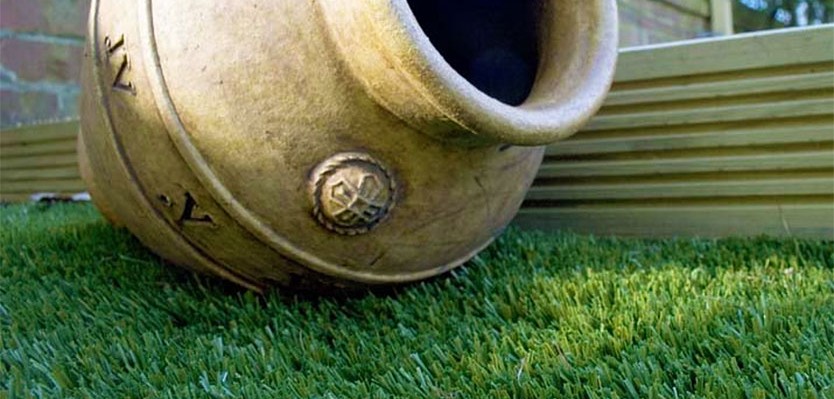 Gardeners can save water by using artificial grass for their lawn instead of natural grass.

The traditional English Lawn is green, short and lush. Over the summer it must be watered frequently in order to maintain soil moisture and keep the grass in good condition. Without adequate water, the soil will dry out and prevent the grass root zone from drawing necessary nutrients. Conversely, artificial grass can provide a beautiful green lawn all year round without watering.

The Environment and Flooding

In addition to water saving, artificial grass lawns benefit the environment in other ways. Lawn care chemicals such as weed killer and pesticide are not required. Furthermore, a significant energy saving is made as petrol or electric lawn mowers are redundant.

Some gardeners have expressed concern about drainage as soil absorbs water whereas nonporous plastic grass causes flooding. This is not the case as artificial grass is manufactured with small holes in the base to allow for excellent drainage.

Realistic Artificial Lawns

In the past, many gardeners were reluctant to consider artificial grass due to its unrealistic appearance, abrasive texture and high expense. This is no longer the case as recent developments make it very realistic and soft to the touch. Artificial grass was originally developed for sport and made its name as astro turf. Since then, artificial grass has been modified to be suitable for garden lawns by including dual tone colours, moss infill and longer pile heights to make it very realistic. The cost is no longer prohibitive as several distributors in the UK now supply premium artificial grass at less than £20 per square metre and the product is typically guaranteed to last a minimum of three years in perfect condition.

Benefits of Artificial Grass

Artificial grass has many uses and all of them can help to save water!  Play areas, roof gardens, dog runs and pathway borders that all traditionally rely on natural grass can be replaced with artificial grass. In any instance where the grass does not need to be maintained (such as a country style overgrown garden) there is obviously no need to use artificial grass. However, when watering and mowing are parts of your maintenance routine, the benefits become obvious.
Many households are now realising the benefits of artificial grass – even the famous Chelsea Flower Show now features artificial grass due to popular demand. Now is the time to consider the environment and see how you can save water in your garden with artificial grass.